Owning a credit card is one of the most convenient and accessible ways to earn rewards, finance purchases, and manage your expenses, for both your personal and business needs. However, with so many types of credit cards available on the market today, it can be challenging to determine which one is best suited for your lifestyle and spending habits.
Luckily, at APS Bank we offer two excellent credit card options for you to consider: the APS Classic and Gold Credit Cards. This guide will zoom in on both of these options and explore the key features and benefits of both credit cards to make an informed decision. By the end of this guide, you will have a better understanding of the types of credit cards available at APS Bank, how they work, and which one works best for your financial goals and preferences.
What is a Credit Card?
Simplistically, a credit card is a payment card based on the principles of revolving credit that enables users to borrow money from their bank to make in-person or online transactions. In contrast to using a debit card, credit cards feature a set credit limit that determine the highest amount that may be borrowed, and they also come attached to a series of benefits, which vary according to the type of credit card that is chosen. At APS Bank we provide two types of excellent credit cards, each boasting different perks and features.
Features & Benefits of the APS Classic Credit Card
The APS Classic Credit Card is a great option for those looking for a credit card that has no annual fee and which offers cashback on purchases, contactless payments, and purchase protection. Here are some of the features of the APS Classic Credit Card:
No annual fee: Owning and using this credit card does not subject you to additional annual fee.
Cashback on your purchases: All cashback earned will show on your credit card e-statement and will be added to your account.
Contactless for quick and secure payments: Make swift and effortless payments at thousands of retailers in Malta and abroad wherever VISA logo is present using this credit card's convenient contactless feature. Simply tap and go.
Use locally and overseas: It will save you from carrying cash with you wherever you go. Whether staying in Malta or going overseas, this card is globally recognised and can save you the cost of exuberant foreign transaction fees.
Pay online securely using 3DS: To provide an additional layer of security when making online purchases, the APS Classic Credit Card is equipped with the latest 3D Secure technology.
Purchase protection insurance: You'll even be covered in case of loss, theft, or accidental damage caused to your purchased items.
Control your card anytime, anywhere with myAPS: Our internet and mobile banking portal allows you to monitor your credit card usage and transactions, set limits, and receive alerts with just a few clicks.
Choose between l-Iljun, l-Arzella and l-Imzejna: You can even choose the credit card design that best fits your style and personality.
Emergency card replacement while abroad: In case the credit card is lost, you can be stress free and get your credit card replaced by paying certain amount of fees as per the Tariff of Charges.
Features & Benefits of the APS Gold Credit Card
Whilst the APS Classic Credit Card offers all the basic rewards, the APS Gold Credit Card option is designed for those who want to enjoy additional benefits, such as travel insurance, vehicle hire excess protection, and life insurance. All the features found in the classic card are included and supplemented with a host of additional features that are great for frequent travellers or professionals on-the-go. Here are some of the APS Gold Credit Card's bonus features:
Travel insurance: You'll be covered for medical emergencies, trip cancellations, delayed departure, and baggage loss when travelling abroad.
Vehicle hire excess protection: You'll be covered for any excess fees charged by car rental companies for damage to their vehicles.
Optional Covers: You can also opt for additional insurance covers by paying small amount of one-time premium.
Life insurance: You'll receive life insurance coverage for yourself and your spouse.
Exclusive il-Pum tad-Deheb card: You'll receive a personalised gold card with a higher credit limit (up to €10,000)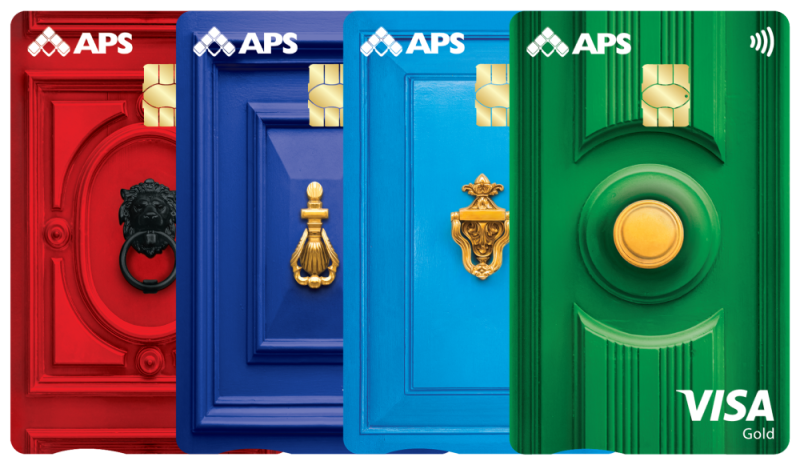 Classic Credit Card vs Gold Credit Card: Which One Works Best for You?
Ultimately, deciding between the APS Classic and Gold Credit Cards depends on your spending habits, lifestyle, and financial goals. If you are looking for a simple credit card that offers cashback and purchase protection, the APS Classic Credit Card may be the best fit for you. On the other hand, if you are a frequent traveller who rents cars often, the APS Gold Credit Card could end up saving you money through its additional range of benefits, such as travel insurance and vehicle hire excess protection. Furthermore, the APS Classic Credit Card have a limit of up to €4,000, while the APS Gold Credit Card have a limit of up to €10,000.
Get Started with APS Bank
To get started or for more information, contact us by filling in the form below. Our team will help you choose the right credit card that suit your needs and help you reach your financial goals.
"*" indicates required fields
Approved and issued by APS Bank plc, APS Centre, Tower Street, B'Kara BKR 4012. APS Bank plc is regulated by the Malta Financial Services Authority as a Credit Institution under the Banking Act 1994. Applications are subject to the Bank's lending criteria. Terms and conditions apply and are available on request.