APS Bank is here to ensure your business succeeds with our business banking offerings. A growing, or large, business requires a specialised financial strategy. Whether your company works directly with customers or is geared towards serving other businesses, every organisation requires expert financial direction. This is why, at APS, we offer a personalised relationship that ensures the right support.
Always present
The financial needs of a successful organisation are constantly evolving. With APS, your management team can set their mind at rest as we maintain a constant presence to ensure your business needs are met even as they arise. We will assign your company a Relationship Manager as a direct point of contact; whenever your organisation requires financial direction, we are only a phone call away.
Your business banking partner
We understand how important it is for a prosperous business to rely on a long-term, trustworthy business partner. An APS Relationship Manager will become familiar with every area of your organisation, so as to always be in a position to offer you a tailor-made business banking solution. We appreciate that you know the inner workings of your business best, but we take it upon ourselves to offer bespoke guidance.
Specialised-sector expertise
At APS, we believe in the importance of understanding the realities of your business portfolio. APS Relationship Managers are industry specialists with in-depth knowledge of specific sectors.
This means that you will receive guidance and advice specialised to your sector.
Time-to-market is kept to a minimum
We are aware that market constraints never stop and that a busy organisation cannot lose money waiting for the right financial advice. The APS business banking processes are streamlined to address requests for support with a minimum response time.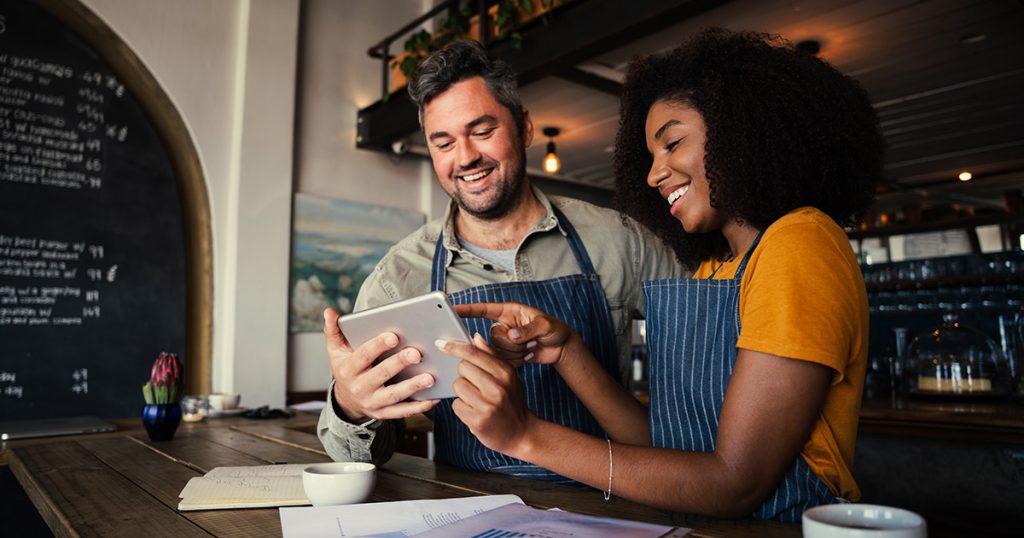 Valuing your custom
As a business customer, your organisation is assigned a Relationship Manager to support your financial department and allow your team to concentrate on the continued activities of your business.
Some of the services offered by APS are:
✓ Internet and mobile banking
✓ Direct credit for salaries
✓ Business development loan
✓ Business mortgage loan
✓ Business overdraft
✓ Business bridge loan
✓ Capital expenditure loan
✓ Green loans for environmentally-friendly products
✓ Commerce facility
Elevate your goals with the MDB SGS Business Loan
The MDB SME Guarantee Scheme (SGS) Business Loan makes it easier for businesses, including startups, to access financing to grow their business. This loan is being offered in collaboration with the Malta Development Bank (MDB).
It's now quicker to open your APS account
You can start the process to open your APS account by filling in the Application and Appointment of Bankers forms (available hereunder) from the comfort of your office, and setting an appointment at one of our Branches.
AB01 Appointment of Bankers - Corporate-Organisations-Entities
CA02 Customer Application Form - Corporate-Organisations-Entities
CA02 Customer Application Form – Additional Connected Parties (Pg 7)
MY01 myAPS Business Application Form
RELEVANT DOCUMENTS
All you need to open an account
FREQUENTLY ASKED QUESTIONS
Business queries
We typically finance up to 70% of the capital investment being undertaken, depending on your affordability, with the 30% balance to be forked by yourself up-front from your savings.
We consider various factors about your business when setting your interest rate. Hence, the actual rate we offer you could vary, depending on the particular circumstances of your case. To find out more about the actual rate you could be offered, kindly book an appointment at one of our branches.
The maximum loan duration may vary, depending on the useful economic life of the asset to be financed.
Yes, you can open a business account by calling our Contact Centre on (+356) 2122 6644 or visiting your nearest branch.
You need to go to the branch where your accounts are held where you will be requested to fill in an application to add the new payee.
"*" indicates required fields
Approved and issued by APS Bank plc, APS Centre, Tower Street, B'Kara BKR 4012. APS Bank plc is regulated by the Malta Financial Services Authority as a Credit Institution under the Banking Act 1994 and to carry out Investment Services activities under the Investment Services Act 1994. Terms and conditions apply and are available on request.